STARSKATE FEES
Ice session fees for StarSkate are a package price that covers the specified session for the entire season. There may be cancellations to a session during the season for test days, simulations, or other activities as determined by the coaches. The club tries to keep these cancellations to a minimum and will try to ensure a session is not cancelled numerous times. There are NO refunds for these cancelled sessions. Make-up ice time will be available on Saturday sessions and other available sessions will be posted.
The WSC Membership Fee is payable once per season (Sep 1 to Aug 31) and entitles you to skating on Weyburn Skating Club sessions.
The Skate Canada Fee is payable once per season (Sept 1 - Aug 31) and pays for your membership and insurance.
The sale of 2 Ticket Books is our annual fundraiser. The ticket stubs are due back by Dec 31 so they can be returned to Skate Canada Saskatchewan. The draw takes place at the Section's Annual General Meeting. Ticket books not returned to the club will be assessed a penalty of $25 and skaters can not register for any further sessions until this amount has been paid.
MANDATORY MEMBERSHIP FEES
| | |
| --- | --- |
| StarSkate | |
| Base Ice Fee | $150 |
| WSC Membership Fee | $50 *NON REFUNDABLE |
| Skate Canada Membership Fee | $35.65 *NON REFUNDABLE |
| Fundraising - 2 Ticket books | $200 |
Base Fee includes:
Saturday Ice, Off Ice training, Dance/Skills/Stroking Group lessons, Ice show group lessons

Shown hi-lighted in green in the below schedule.
ICE SCHEDULE & SESSION FEES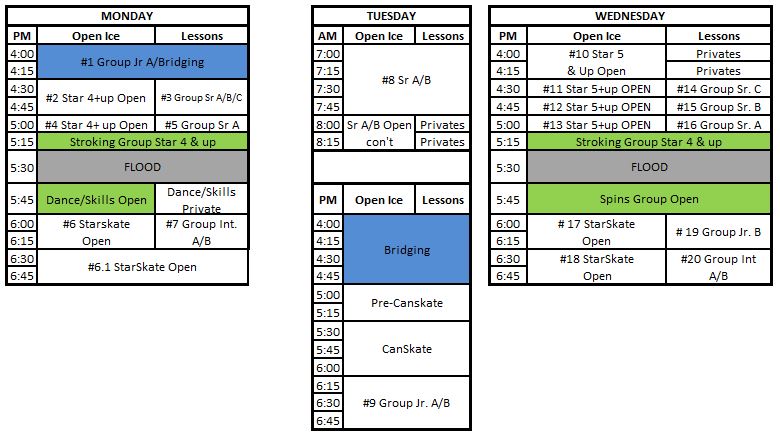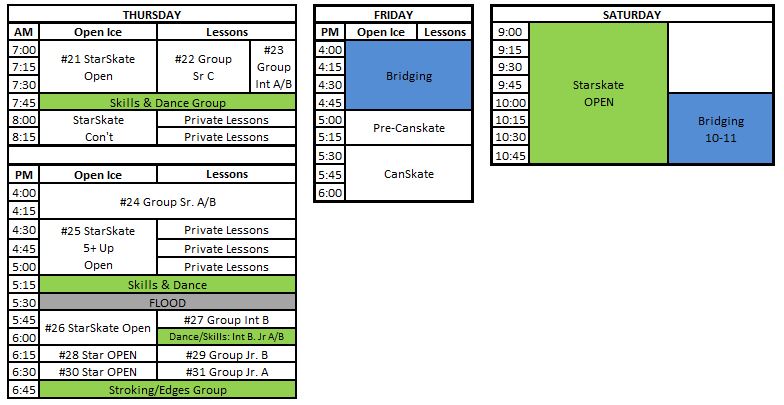 | | |
| --- | --- |
| Session Fees 2018 19 | |
| #1 Group Jr A (&Bridg) | 250.00 |
| #2 Star 4 + up OPEN | 100.00 |
| #3 Group Sr A/B/C | 250.00 |
| #4 Star 4+up OPEN | 25.00 |
| #5 Group Sr A | 125.00 |
| #6 StarSkate OPEN | 125.00 |
| #6.1 StarSkate OPEN | 125.00 |
| #7 Group Int A/B | 250.00 |
| #8 Group Sr A/B | 460.00 |
| #9 Group Jr A/B | 300.00 |
| #10 Star 5 + up OPEN | 125.00 |
| #11 Star 5 + up OPEN | 50.00 |
| #12 Star 5 + up OPEN | 50.00 |
| #13 Star 5 + up OPEN | 50.00 |
| #14 Group Sr C | 125.00 |
| #15 Group Sr B | 125.00 |
| #16 Group Sr A | 125.00 |
| #17 StarSkate OPEN | 125.00 |
| #18 StarSkate OPEN | 125.00 |
| #19 Group Jr B | 300.00 |
| #20 Group Int A/B | 300.00 |
| #21 StarSkate OPEN | 135.00 |
| #22 Group Sr C | 310.00 |
| #23 Group Int A/B | 310.00 |
| #24 Group Sr A/B | 250.00 |
| #25 Star 5 + up OPEN | 125.00 |
| #26 StarSkate OPEN | 125.00 |
| #27 Group Int. B | 125.00 |
| #28 StarSkate OPEN | 50.00 |
| #29 Group Jr B | 125.00 |
| #30 StarSkate OPEN | 50.00 |
| #31 Group Jr A | 125.00 |
| | |