FEES
Ice session fees for STARSkate are a package price that covers the specified session for the entire season. There may be cancellations to a session during the season for test days, simulations, or other activities as determined by the coaches. The club tries to keep these cancellations to a minimum and will try to ensure a session is not cancelled numerous times. There are NO refunds for these cancelled sessions. Make-up ice time will be available on Saturday sessions and other available sessions will be posted.
MANDATORY MEMBERSHIP FEES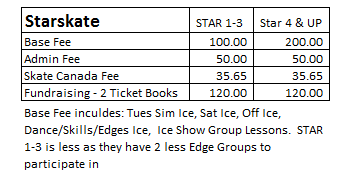 The Skate Canada Fee is payable once per season (Sep 1 to Aug 31) and pays for your membership and insurance. The fee is non-refundable.
The Admin fee is payable once per season (Sep 1 to Aug 31) and entitles you to skating on Weyburn Skating Club sessions. The fee is non-refundable.
The sale of 2 Ticket Books is our annual fundraiser. The ticket stubs are due back by Dec 31 so they can be returned to Skate Canada Saskatchewan. The draw takes place at the Section's Annual General Meeting. Ticket books not returned to the club will be assessed a penalty of $25 and skaters can not register for any further sessions until this amount has been paid.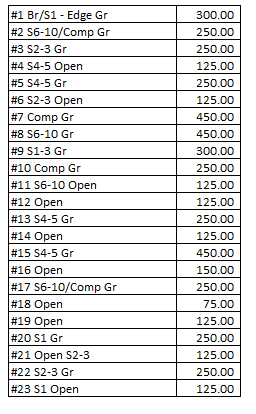 PAYMENTS
Full payment of membership fees is required at time of registration. Where indicated on the registration form, session fees may be split into installment payments. Payment methods will be indicated on the registration form.
REFUNDS
Prorated refunds will be considered by the Board for skaters wishing to withdraw from the program
Refund requests must be submitted by email to weyburnsc@gmail.com
Any refunds issued will be subject to a $25 administration fee
The $35 Skate Canada fees are non-refundable for any reason.
The $50 Weyburn Skating Club Membership fees and $80 ticket book fees are not refundable after the start of the season.
All refunds are pro-rated from the time of notification.
Refunds for injury with a doctor's note will be issued at anytime throughout the program.
DECLINED PAYMENTS / NSF CHEQUES
There will be a $25 administration fee for NSF cheques. There will be a $25 administration fee for all declined credit card transactions. In all cases of decline (NSF, declined credit, stopped payment, etc.) one additional attempt will be made by the club administration to receive payment. If payment continues to be declined the skater will be considered not in good standing with the club and will not be permitted to participate in any of the club activity, including regular skating sessions, until such time as full payment has been made. If payment has not been made within 30 days from date of decline or NSF, the member shall be considered as having terminated their membership. No refunds will be provided for any partial monies paid and all privileges will be permanently revoked.
MISSED CLASSES
Participants are expected to attend all sessions as scheduled for the program in which they are registered. There will be no refunds for missed sessions. In the event that a participant is unable to attend a scheduled session:
The coaches must be contacted with the details 24 hours prior to the session
Coaches will not be required to reschedule any lessons missed during the session
MAKEUP/REPLACEMENT SESSION POLICY
It is understandable that there will be times during the season where skaters will miss sessions due to other school or personal commitments. There will be a posted list of sessions available for makeup ice. Skaters can make up their ice time within one week of missing their session. This does not include coaches' time or a programmed lesson. It is the skater's responsibility to schedule time with his or her coach. It is the responsibility of the skater to have given ample and enough warning to their coach so that their missing the lesson does not incur any cost to them from the coach
COACH CANCELLATIONS
In emergency cases where our coaches are unable to be on the ice, skaters can use the scheduled ice time for practice but they must be supervised by a parent. If you can not supervise your child, you can arrange for another parent to look after your skater however this must be arranged before the skaters take the ice. You can not assume that a parent who is sitting in the lobby will automatically look after your child
EMERGENCY ICE CANCELLATIONS
Emergency ice cancellations are done by the city and are out of the control of the Weyburn Skating Club. The club will provide as much notice as possible if an emergency cancellation arises. The Club will attempt to find replacement ice at a later date but if City scheduling does not allow for this, there will be no refund of ice fees